A power outage is an emergency that can occur on any given day. Therefore, you need to prepare yourself for the possibility you'll be facing this situation soon. It's a good idea for you to buy a good residential standby generator for your home and have it professionally installed. Before you buy a generator for your home or business, you need to compare some popular generators that are available on the market. This article will recommend some of the most popular residential generators in 2020. These generators are popular among many people, so they receive a lot of good testimonials and reviews from customers.
This is a popular generator model that is offered by the Generac company. This model is small in size, but has enough capacity to power up small homes. This generator can provide up to 11,000 watts of energy (on liquid propane fuel) or 10,000 watts of energy (on natural gas). It has some useful features that are added to this generator, for example, RhinoCoat powder-coated surface, LCD, remote monitoring, G-force engine, and some other interesting features. Its noise level can be maintained under 65 dB. You can monitor this generator status from your tablet, mobile device, or computer.
True Power Technology delivers best-in class power quality (less than 5% THD) for smooth operation of sensitive electronics and appliances
Includes a 200 Amp NEMA 3 (indoor / outdoor rated) whole house smart transfer switch
Generac's Evolution Controller features LED indicators for generator status, utility power presence or maintenance required
Tough, durable all-weather aluminum enclosure offers 3 removable sides for easy access for installation, service and maintenance
Battery Not Included. Generac battery model 5819 sold separately.
If you are looking for an efficient generator for your home, you can take a look at this device. This is an efficient home standby generator from the Champion company. This generator will consume about 2.6 gallons per hour at its full load capacity. This 14,000-watt generator has a mid-size capacity, so it is good for most small and medium-sized homes. This generator has a unique feature that is resistant to any ranges of temperatures. When you place this generator in a range between -22′ to 104′ Fahrenheit. You don't need to use a warming or cooling kit while you use this home standby generator in any areas with extreme temperature.
Super quiet operation with sound dampening and low-tone muffler
No refueling needed, connects to propane or natural gas supply
Operates in temperatures ranging from -22 to 104 degrees
This residential generator is suitable for you who want to use their generator regularly. It is going to use both natural gas and liquid propane as its main fuel sources. The energy produced by this device has clean energy that comes with less than 5% of the total harmonic distortion. It means that you can use this generator because it is safe for any sensitive device or electronics, for example, your computers or servers. The design of this Kohler generator is covered with its corrosion-proof cover which can withstand extreme conditions.
Every KOHLER® generator is equipped with a heavy-duty, commercial-grade engine that stands up to extreme weather.
In just 10 seconds, your KOHLER generator automatically restores power to a 5-ton (60,000 BTU) air conditioner, major appliances and electronics.
We've got you covered with 5-year, 2,000-hour protection, and a corrosion-proof enclosure that's built to last.
KOHLER generators have received several awards, including the Most Valuable Product (MVP) Award 2010 by Building Products magazine.
When we are talking about some of the best home standby generators, we cannot forget Briggs & Stratton. This generator is approved by the National Fire Protection Agencyas one of the safest generators when it is placed close to your home. This generator will be able to produce up to 20,000 watts without causing a lot of noise. Its automatic start allows you to get immediate energy when the power outage occurs in your home. There is no dangerous exhaust fume that will be produced by this generator.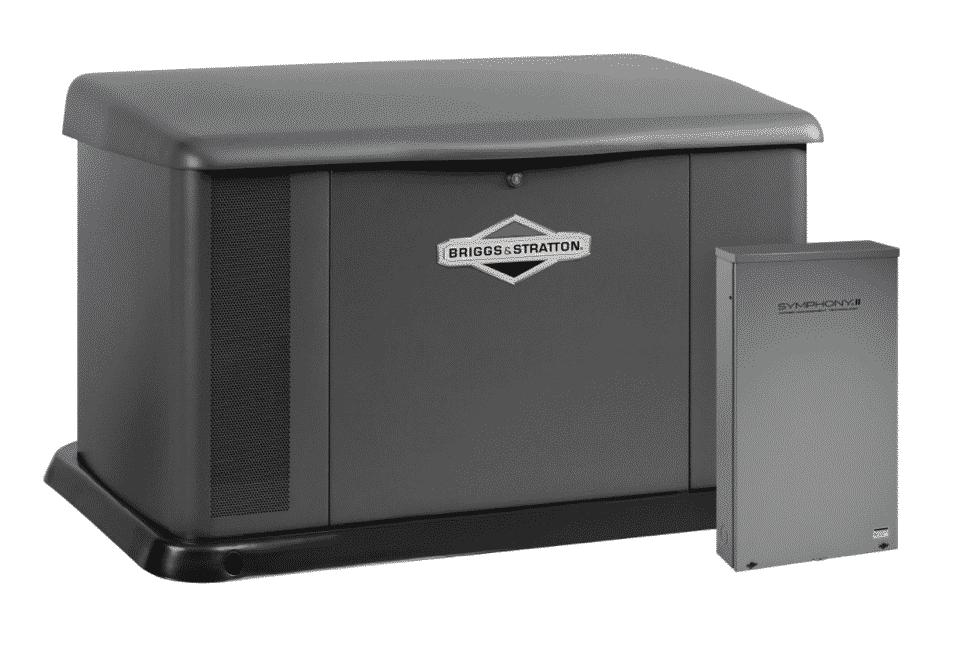 Whole house power management system powers all your household appliances and up to two air conditioners
Automatically powers your home in seconds after sensing a power outage
Commercial-grade Briggs & Stratton Vanguard engine provides reliable and dependable power to the generator
Can be placed as close to 18 in. (where NFPA codes allow) from the home to provide more placement options
Rust-resistant Galvanneal steel enclosure offers years of protection against natural wear and tear and high temperatures
Suitable for most average-sized houses, this generator provides 16000 watts of power. It has a strong metal cover that can handle winds up to 150mph (which is great for hurricane season). This model can be controlled via your computer or smartphone, even if you are hundreds of miles away.
True Power™ Technology
Generac's G-Force™ Engine
Quiet-Test™ Self-Test Mode
Tough, Durable All-Aluminum Enclosure
Smart, User-Friendly Controls
Mobile Link™ Wi-Fi Connectivity FREE with every Guardian Series Home Standby Generator
If you want to find the best generator for your family or business, you can choose one of these popular home generators today! These generators are made by some of the longest standing names in the industry, so they can be relied on to give the best performance for you. You can also contact us at Santella Electric. Our experts and customer representatives can recommend some of the best and most popular residential generators for your needs.