Santella Electrical Services – Norwalk
Who we are.
About the city of Norwalk
Norwalk is a U.S. city located in southwestern Connecticut, in southern Fairfield County, on the northern shore of Long Island Sound. Norwalk lies within both the New York metropolitan area, as well as the Bridgeport metropolitan area.
Norwalk was settled in 1649, & is the sixth most populous city in Connecticut. According to the 2010 United States Census it has had a population of 85,603; with an estimated population of 88,816 in 2019.
Norwalk provides robust programs and services that can enhance and enrich the lives of residents. Our recreational activities, beautiful parks, & inclusive programming help make our diverse community a great place to live, work, and play.
Norwalk boasts beautiful beaches and memorable sunsets and only 45 minutes from New York City. South Norwalk is a unique destination offer a variety of shopping opportunities, restaurants & nightlife. The Maritime Aquarium and Stepping Stones Children's Museum gets more than 750,000 visitors a year and are complimented by the annual events including the SoNo Arts Festival, Oyster Festival and the In-Water Boat Show. The SoNo area in South Norwalk where you can visit the Maritime Aquarium, join others for a lighthouse tour, a sunset cruise & enjoy the scenery is well known for its eclectic vibe. The Norwalk shoreline provides access to some of Connecticut's best boating, public beaches, lighthouses, protected islands and marinas. It has culture and class.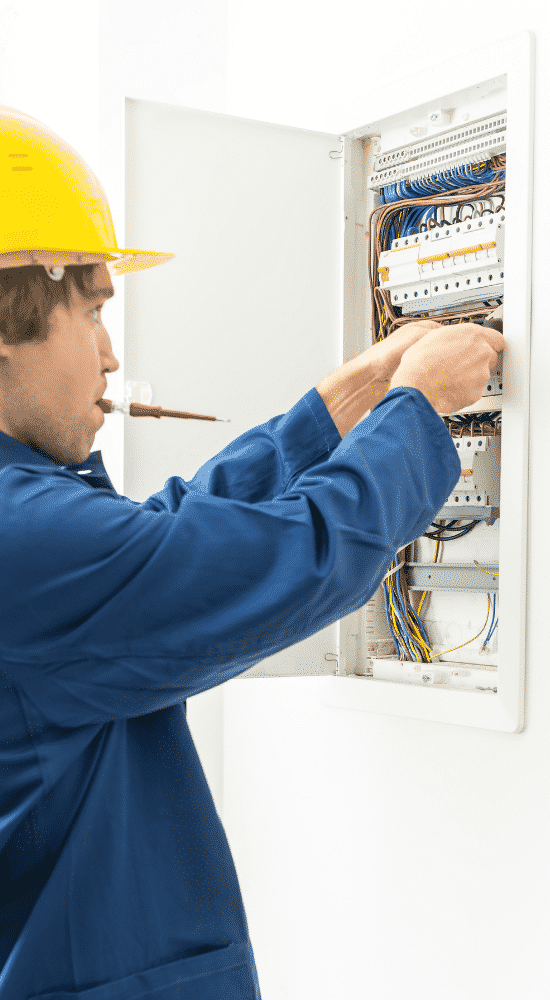 Rated One of the Best Electricians in Norwalk 2021!
Contact Santella for Work in Norwalk
Commercial Electricity in Norwalk
The average commercial electricity rate in Norwalk, CT is 7.63¢/kWh.
Residential Electricity in Norwalk
The average residential electricity rate in Norwalk, CT is 12.67¢/kWh.
Industrial Electricity in Norwalk
The average industrial electricity rate in Norwalk, CT is 5.2¢/kWh.
Fun Facts About Norwalk
– "Norwalk, Connecticut, gets 45 inches of rain per year. The US average is 37. Snowfall is 24 inches. The average US city gets 25 inches of snow per year. The number of days with any measurable precipitation is 100. On average, there are 179 sunny days per year in Norwalk, Connecticut. The July high is around 83 degrees. The January low is 18."
– In J. D. Salinger's novel, The Catcher in the Rye, Holden's parents are attending a party in Norwalk the night he sneaks into his apartment to visit his sister, Phoebe.
– There are three golf courses in the city of Norwalk.
Install or Repair Standby Generators
If you need your standby generator maintained, repaired, or installed in Norwalk, Santella Electric is at your service. Our team of generator experts are equipped with the knowledge necessary to work on any type of commercial or residential generator.
Connecticut & the Fairfield County area have seen a sharp increase in storms like hurricanes and tornadoes in the recent years that have taken out larger chunks of Connecticut's population. Keep your family and business connected next time the power goes out.
Install Home Entertainment Systems
Norwalk is a lively city that we have been serving for the past 55+ years. Be the life of any party or gathering with a home entertainment system installed by Santella Electric. Not sure which system to choose out of the hundreds available online? Call us & speak with an expert. We will listen to your needs and make a recommendation that works for you.
Renovate Landscape Lights
Make your pool glisten, have the walkway to your garden glow, and much more with our landscape light installation in Norwalk, CT. Light up patios & social areas for your next gathering or simply improve the security of your home.
We also install permanent Christmas lights so you don't have to worry about installation and take down every year in the Connecticut snow.
Connect you to a Smart Home System
Smart security is the best way to keep an eye on your residential property while you're gone. Our team of electrical and security experts can recommend, install, and show you how to use a new smart security system that keeps you safe as well as a focus on your privacy.
City of Norwalk Resources:
Find the Norwalk, CT Building Department Below