Santella Electrical Services – Stamford
Who we are.
About the city of Stamford
Stamford is the second-most populous city in Fairfield County with a population of 122,000+ in the 2010 census, and 129,000+ in 2019. Stamford is the third-largest city by population in Connecticut (behind Bridgeport & New Haven). Approximately halfway between Manhattan and New Haven at approximately 38 miles from each, Stamford is in the Bridgeport-Stamford-Norwalk-Danbury metropolitan statistical area which is a part of the New York City metropolitan area.
Stamford is home to nine Fortune 500 companies as of 2019, as well as numerous divisions of large corporations. This gives Stamford the largest financial district in the New York metropolitan region outside New York City itself & one of the largest concentrations of corporations in the United States. Dominant sectors of its economy include financial services, tourism, information technology, healthcare, telecommunications, transportation, and retail. Its metropolitan division is home to colleges & universities including UConn Stamford & Norwalk Community College.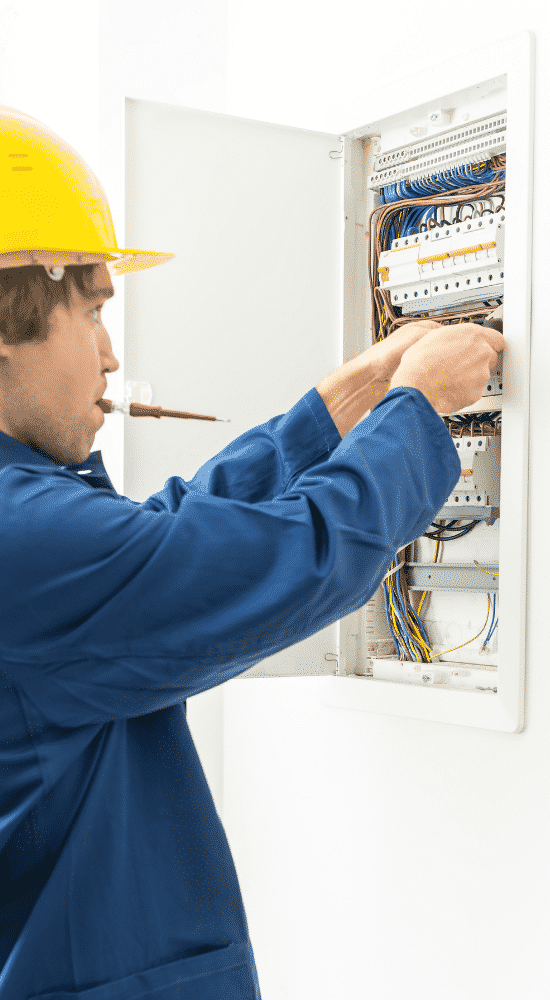 Contact Santella for Work in Stamford
Commercial Electricity in Stamford
The average commercial electricity rate in Stamford, CT is 7.63¢/kWh.
Residential Electricity in Stamford
The average residential electricity rate in Stamford, CT is 12.67¢/kWh.
Industrial Electricity in Stamford
The average industrial electricity rate in Stamford, CT is 5.2¢/kWh.
Fun Facts About Stamford
– A resident of Stamford is a Stamfordite. Stamford was once known as "The Lock City" because the Yale & Towne Manufacturing Company, which made locks and keys, was located in Stamford's South End.
– The National Crossword Puzzle Championships were started by a Stamford resident. The championships were held in Stamford until 2006, when they moved to New York City.
– Stamford, Connecticut is not the only Stamford in the United States. There are also Stamfords in the states of New York, Vermont, Texas & Nebraska. The Nebraska Stamford was named after Stamford, CT.
Generators
A whole home standby generator is a must in Stamford where rain, wind,&snow can leave you & your family in the dark. At Santella Electric we are Connecticut's trained to work with all generators including popular brands like Generac, Briggs & Stratton, Kohler, Champion, & more.
A standby generator adds value to your home as well as peace of mind that next time a storm strikes, your family or business will be able to get the information you need & be able to communicate with the outside world.
Home Entertainment Systems
Turn your out of the box entertainment system into a theatre you can host events for years to come in. Santella Electric can recommend systems, take care of set up, or come out to troubleshoot an issue with your new entertainment system. Make your home the spot to be for the next big game or party today.
Landscape Lights
Stamford is a very safe community that we have been working in for the last 55+ years. If you want to add an extra layer of security to your property, in ground landscape lighting is a must. Santella Electric can light up any pathway or driveway, add flood lights, & more to provide your family or business with light where you need it most.
Smart Home Systems
Stamford residents are some of the busiest people in the country! We are all familiar with smart home devices like the iRobot however, as we move into 2021, smart home technology will continue to see increases in application use.
Let Santella Electric connect your home so you can monitor your electricity, security, & more. Confused about which smart home system to choose? Call us in New Canaan & one of our friendly staff members will be more than happy to listen to your needs and make a suggestion.
All Residential of Commercial Electrical Work
Whether you need new outlets, new wiring, or any other electrical work done at your home or business in Stamford, we are here to help. Our staff has the experience and expertise to properly diagnose, repair, or install a wide array of electrical products. Call us today!
City of Stamford Resources:
Find the Stamford, CT Building Department Below