Are you looking for a good electrical contractor in Fairfield County? You will be able to find a lot of contractors that are available in this area, some have better reviews than others. You need to compare all available companies before you decide which contractor is the best fit for all of your needs. There are some important general factors that you have to consider, so you can avoid any problems with bad contractors. Here are several things to consider before you hire an electrical contractor for your next job.
1. History in the area
This is the first thing that you should take into consideration, especially when you want guaranteed quality work. You need to look for a company that have a lot of experience in this industry and in your town. Any business that has been able to keep their doors open for a while will always delivery better quality ad systems.
Experienced companies tend to offer better service for all customers. Our company has more than 55 years of experience in serving Fairfield & Westchester Counties.
You can also check the reputation of all available companies easily with a quick Google search. Don't forget to visit some social media channels, online forums, search engines, etc, especially when you want to compare all electrical contractors and see what your neighbors are saying.
It is also a good idea for you to ask your families, friends, or relatives about who they use for an electrician. They may give some recommendations of some of their favorite electrical contractors in this area. You can use this referral when you are making your final decision
2. Look at their insurance and permits
All electricians in Connecticut and New York must be properly licensed and insured. These permits and licenses will ensure the capability of these contractors. These permits will offer protection to you, the homeowner. Licensed contractors usually have enough skills and knowledge for solving any of your electrical problems in your home.
When you choose electrical contractors, you also need to expect them to have insurance. You cannot take a risk with any electrical appliances in your home and electricity in general.
Santella Electric also offer a warranty for any of our services. This warranty will ensure that our electrical technicians can complete any of our work without causing any other problems to the electrical system in your home.
3. Available services and fees
Different contractors may have different services that are suitable for their customers. Take a look at our available services on our home page! Our customer representatives will be happy to share our list of services as well if you prefer to call. In some cases, we can also offer customized services for helping you with any of your specific needs in your home.
When comparing all available contractors, you should also check their fees. You need to determine your overall budget for any of your projects and some contractors sneak in fees at the last minute.
Santella Electric is ready to deliver the best electrical services at an affordable price. Contact us today or book an appointment online today.
What is an Energy-saving Consultant?
Energy consulting is a fast-growing profession that allows you to help others as well as making a global impact. These consultants work with a variety of clients and help them lower their carbon footprint while also developing solutions to manage their energy bills. Energy consultants can help people understand and implement new systems that reduce overall energy use. They also look into your appliances or anything that generates energy, and create plans to reduce your energy based on one's specific appliance use. Energy consultants also recommend alternative appliances or materials with low costs and efficient energy features. Below are some responsibilities an energy-saving consultant preform:
Provide recommendations in development and administration, budget and financial reporting; manage invoicing; and develop training manuals and user guides.
Determine a client's energy consumption by conducting building assessments
Research Energy-saving systems that could benefit the client
Compare the historical and current usage rates of a client
Create easy-to-understand energy usage audit reports for the client
Present in-home presentation to homeowners for the company solar lease/purchase programs.
Design a comprehensive building envelope efficiency program including HVAC, renewable energy systems, and lighting retrofits.
Save clients' money by changing out inefficient light bulbs with efficient CFLs.
As a result, clients can:
Increase their energy efficiency
Reduce overall energy costs
Earn green certifications
Minimize their impact on the environment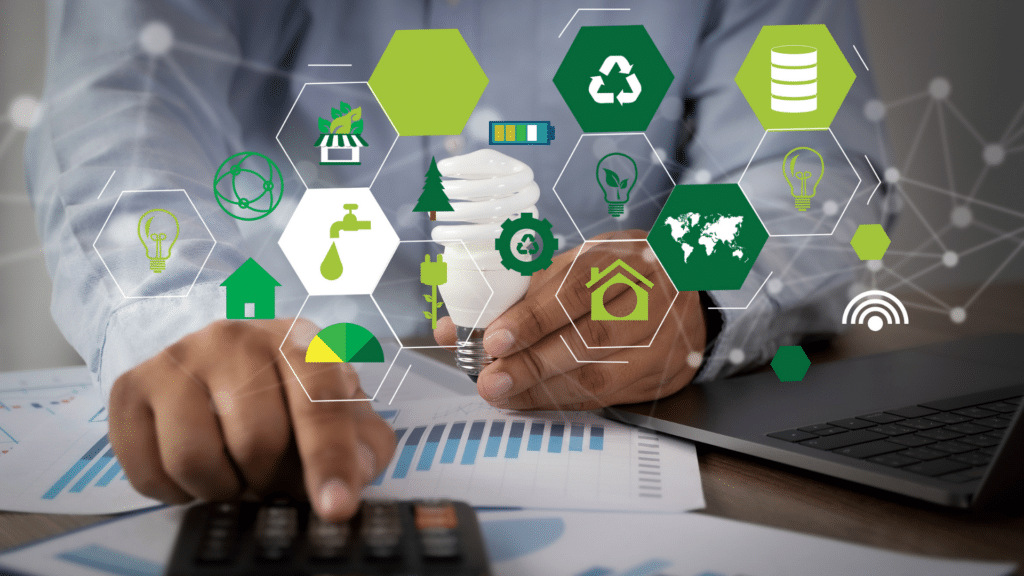 How to become an energy-saving consultant:
Below are some of the steps needed in order to become an energy-savings consultant.
Earn a GED or high school diploma
Earning your high school diploma or GED equivalent is usually the minimum requirement to become an energy savings consultant
Earn a bachelor's degree
Even though some employers may only require an associate's degree, it is possible companies will be looking to employ an energy-savings consultant with either a bachelor's degree or higher. Some common bachelor's degrees energy-saving consultants pursue are physics, engineering, and renewable energy management. Even if your employer doesn't require a bachelor's degree, earning this degree can help expand your knowledge on energy saving.
Complete a certifications program
Pursuing a certification can be an added benefit as an energy savings consultant. Although some employees might not require this certification for the job, it is an impressive addition to your resume.
Below are some of the certification options energy-savings consultants can pursue:
LEED Green Certification:
The LEED Green Certification is earned through the U.S Green Building Council (USGBC). This certification acknowledges your skills in sustainable operations, design, and construction.
Renewable Energy Professional (REP) Certification:
This certification is offered by The Association of Energy Engineers (AEE). This certification shows your experience and expertise in designing sustainable, low-carbon goals, evaluating renewable energy projects, as well as implementing new renewable energy technologies.
Certifications are also a good idea to pursue when you want to focus your energy-saving consulting in a more specific field. A certification in such a field helps apply your knowledge about conserving energy in a specific area.
Pursue a master's degree
Although a master's degree is usually not required by employers, it can help increase your earning potential. A master's degree can also be a competitive addition to your resume, making you an outstanding candidate for the position.
How much does an energy savings consultant earn?
The nationwide average salary for an energy savings consultant is around $99,243 a year. In Connecticut, that average is about $69,421 a year. Your earning potential as an energy consultant can increase based upon your level of education and how many degrees you hold in energy consulting-related areas. Earning certifications can increase your earning potential as well.
Skills of an energy-savings consultant:
Project Management:
You must be able to direct multiple parties and coordinate everyone's efforts. This ensures you are able to complete your goal of developing new energy-saving systems.
Communication Skills:
A wide range of communication skills are needed as an energy-savings consultant as you are working with individuals almost every day. You need to communicate both with co-workers and clients. It is essential to have strong communication skills so all parties involved understand the new solutions you are creating as an energy-savings consultant.
Understanding Renewable Energy:
This may be the most important skill as an energy-savings consultant. Understanding venerable energy means understanding renewable energy and relevant government regulations. You also must keep up to date with current renewable energy trends and technologies to most effectively do your job.
Conclusion
Energy-saving consultants help communities make a global impact. They work with individuals and businesses to review their current energy production and find ways in order to reduce their overall energy use. This involves updating technology or even developing strategies to lower the energy use on current ones. An energy-saving consultant needs a minimum of a GED or high school diploma equivalent to pursue the field of energy consulting. It is recommended to earn a higher degree in order to further your knowledge in conserving energy as well as increase your learning potential. Energy-saving consults are essential in order to help decrease global energy use.