Why Are Electric Vehicles Becoming More Popular?
What you may find surprising to learn is that electric vehicles were actually invented in the late 1800s. Their popularity stemmed from the fact that they were easier to operate for consumers. However, they were quickly replaced by gas-powered vehicles that could go further without fueling up. However, in recent years, the popularity of electric vehicles has risen once again. One of the major reasons behind this is the recognition that hydrocarbons have damaging effects on the environment. The burning of hydrocarbons increases climate change and the greenhouse effects. Petroleum has varying degrees of toxicity that affects people and the planet alike. Manufacturers and consumers have opted for electric vehicles because they do not perpetuate the same environmental harm as gas-powered vehicles.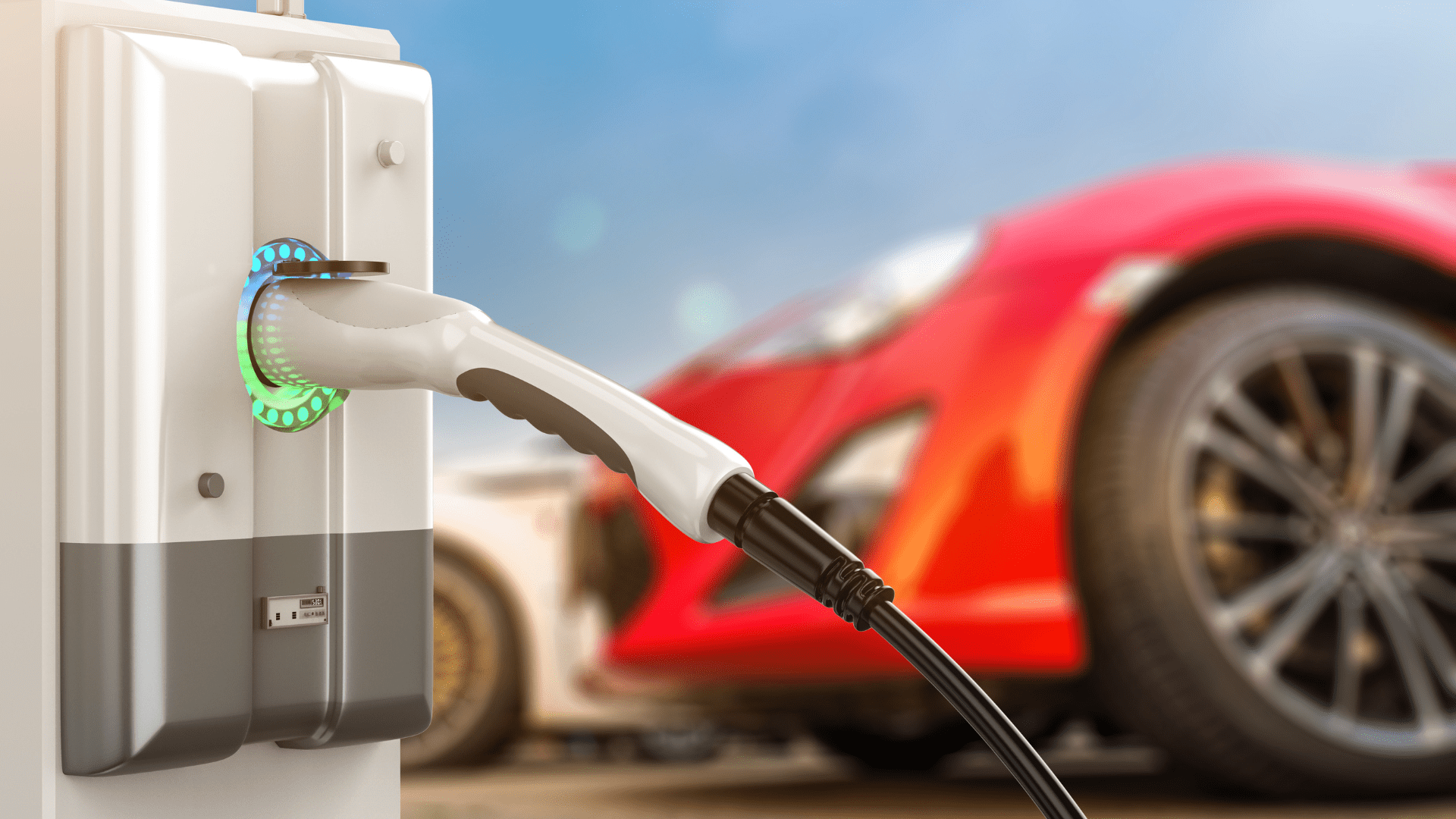 Additionally, electric vehicles have become more accessible to the general public. Charging stations are now available at a lot more places and there are less reports of EV owners running out of charge. And, ultimately, electric vehicles require less maintenance and are cheaper than gas-powered vehicles in the long run. The yearly cost of operating an electric vehicle is much less than that of a gas-powered vehicle.
The Benefits of Having a Home EV Charging Station
When you invest in an electric vehicle, you'll also need to invest in a home EV charging station. The two really do go hand-in-hand. At first, installing a home EV charging station may seem like a superfluous expense, but having your own charging station is especially valuable. There are benefits to having a home EV charging station. First starters, home EV chargers are convenient. Public EV charging stations are starting to become more common but that doesn't mean you should rely entirely on them. Doing so could mean that you have to plan your driving routes around the locations of EV chargers. However, with a home EV charger, you can plug in your vehicle whenever you need to at your own convenience.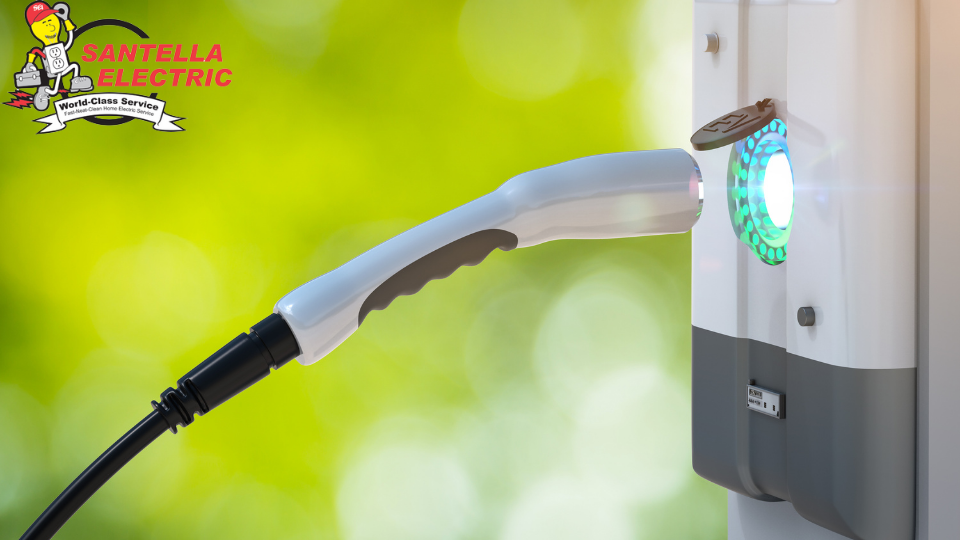 Additionally, today's home EV chargers have advanced settings you can program to schedule and maintain your car's battery according to the specifications of your particular EV model. This allows you to have more control over the charging process. While it is not free to install an EV charging station, it also costs money to charge at a public station. After the initial cost of installation, having a home EV charging station does prove to be less expensive in the long run. 
Finally, just like any other batter, your EV's battery will wear out over time. Still, you can extend your battery's life for as long as possible. Public charging stations are often "fast charge" spots, which can be convenient but can also wear your battery down faster if you rely solely on them. Using a home charging station that you can configure and charge your EV at the manufacturer-recommended speed will maximize your battery's life.
Types of Home EV Charging Stations
Level 1 EV Chargers
A Level 1 EV charging station is the standard charger that comes with an electric vehicle. Level 1 stations typically have a voltage of 120v, 1-phase AC, 12-16 Amps, and 1.4-1.9 KW. This level has a charging rate of 3-5 miles per hour and will take around 30 hours for a full charge. This is the standard unit for residential use and is a good option for EV car owners who do not have to travel long distances for work.
Level 2 EV Chargers
As the middle-level unit, the Level 2 EV charging station is a bit of a step-up. This level can be used for both residential and commercial use. Level 2 has a voltage of 208 or 240v 1-phase AC, 18-80 Amps, and 2.5-19.2 KW. This level charges faster at a rate of 10-20 miles of range per hour. It will only take 8-12 hours to fully charge your EV. This unit may better suit the needs of a larger variety of customers.
DC Fast Chargers
DC fast chargers supply a much faster and shorter charging experience. A DC fast charger provides DC power directly to your EV's battery, greatly increasing the charging speed. DC fast chargers can range in output from 50kW to 350kW. Charging times are dependent on the battery size and the output of the dispenser, but many electric vehicles are capable of getting an 80% charge in about an hour using current DC fast chargers.
Factors To Consider Before Buying a Home EV Charging Station
Your EV's Charging Requirements
You can charge your electric vehicle using standard 120V home outlets (Level 1), 208-240V outlets like those used by your dryer (Level 2), or 480V+ DC fast chargers. How long your EV takes to charge using these three options depends on your drive and the size of your battery. Charging speed is also dependent on the size of the vehicle's on-board charger and the power level of the charging equipment.
Your Home's Electrical System
Luckily enough for you, your home most likely already has an electrical system equipped to charge your electric vehicle. An EV charging station converts power into a form that an EV's battery can accept. In order for an EV charger to do so, it takes the type of electrical current available in your house—120-volt or 240-volt AC—and converts it into a current flow the EV battery system can accept. At most, you may need to have dedicated circuits and outlets installed, rather than having your whole electrical system rewired.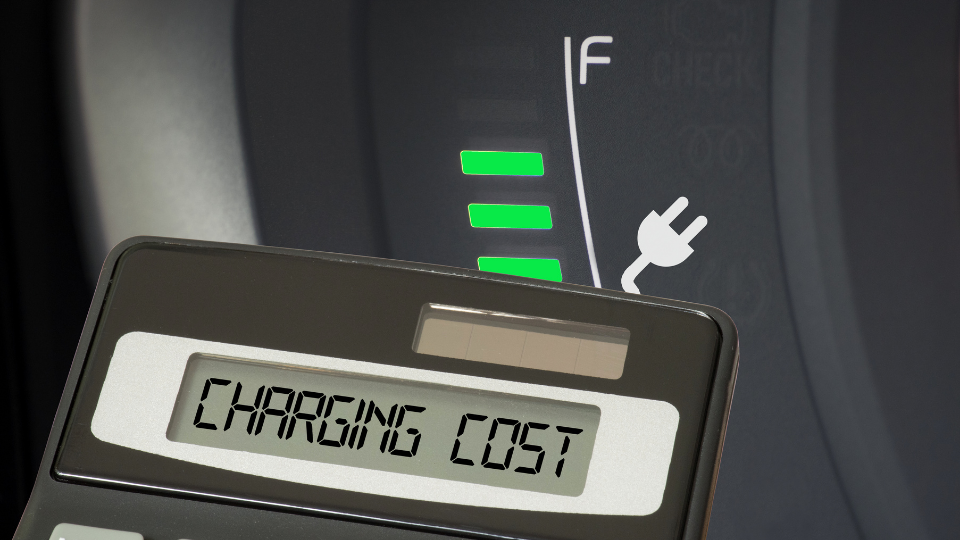 Installation Costs
One of the primary costs associated with electric vehicles is the EV charging station installation. The price range for this installation is a bit broad since it's dependent on the level of the charging station. A Level 1 station will typically cost around $300 whereas a Level 2 station can cost anywhere between $300-$1200. Keep in mind that you may, also, need a professional's help. Factors including labor, location, and materials can fluctuate the price as well.
Available Rebates and Incentives
You'll be happy to know that investing in an EV charging station is more affordable than you may think. Governments and utilities offer an array of tax credits, rebates, and grants that can help you. The Federal Tax Credit for Electric Vehicle Charging Equipment offers 30% (up to $1000 per unit) of the cost for individual / residential use. Other incentives you qualify for depend on the state you're in. For example, in Connecticut, Eversource offers rebates up to $1000 on the purchase and installation of select Level 2 Smart EV Chargers for your home. Additionally, Groton Utilities offers a rebate up to $600 to customers for an approved Level 2 charging station.
Choosing the Right Home EV Charging Stations
Popular Brands and Models
With the popularity of electric vehicles rapidly rising, home charging stations are becoming more widely available with an increasing range of options. Some brands at the top of the home EV charging station market include: 
Blink

SemaConnect / SemaCharge

ChargePoint

Evgo

Electrify America

Webasto

Greenlots

ZEF Energy

OP Connect

GE WattStation

Tesla (exclusive to Tesla vehicles)

Sun Country Highway

Volta

and Astria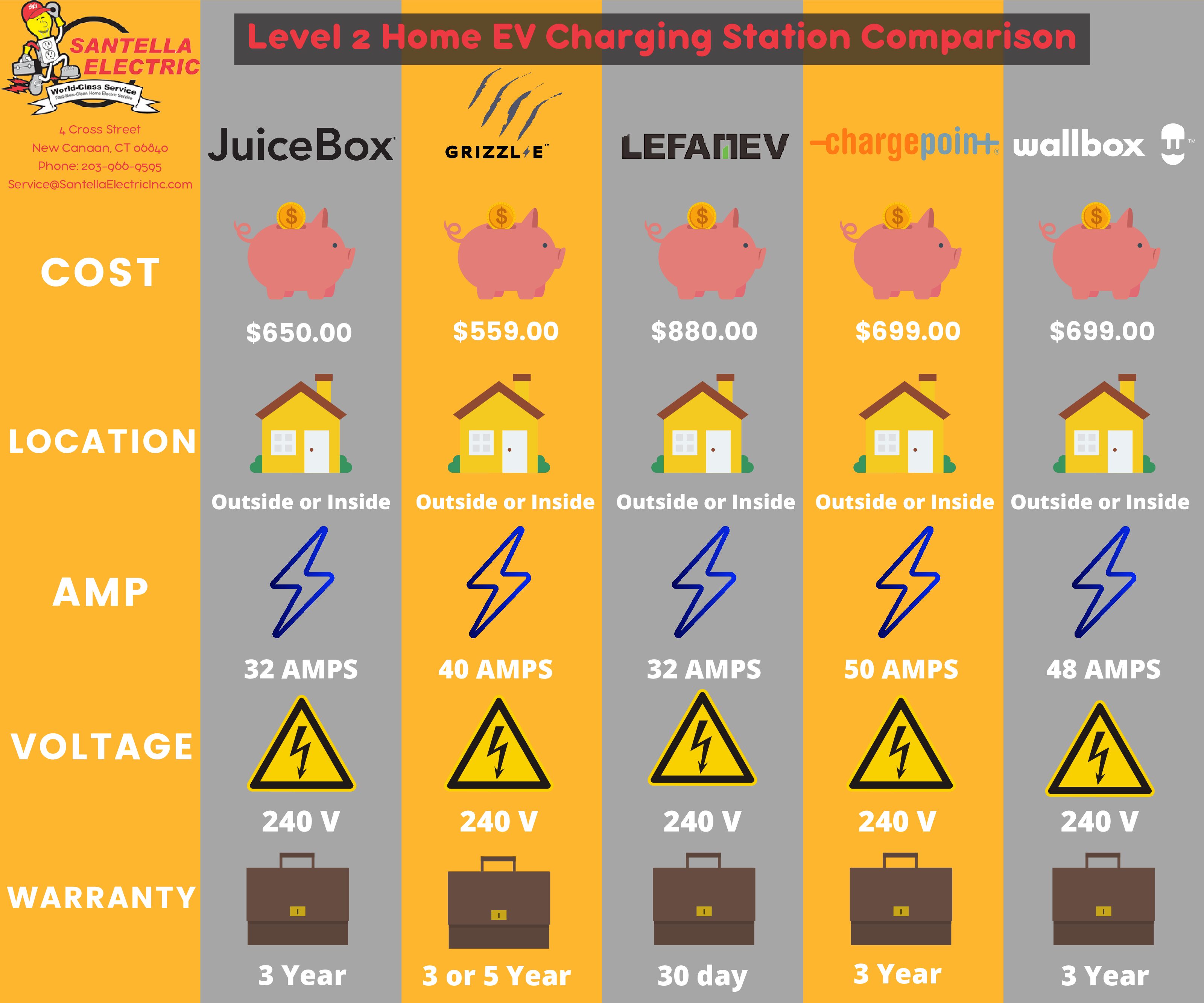 Features to Consider
You could invest in a simple EV charging station that just charges or one that has more accommodating features. For example, some stations can charge two cars simultaneously which is convenient for households with more than one electric car. You could also remotely control and monitor some models through a smartphone app. Some models can even program your charging sessions. It's advisable that you buy the charging station that has all the features you want.
Features to Consider
You could invest in a simple EV charging station that just charges or one that has more accommodating features. For example, some stations can charge two cars simultaneously which is convenient for households with more than one electric car. You could also remotely control and monitor some models through a smartphone app. Some models can even program your charging sessions. It's advisable that you buy the charging station that has all the features you want.
Installing Your Home EV Charging Station
Preparing Your Home for Installation
Once you've decided to invest in a charging station, you must prepare your home for installation. There is essential planning that goes into having a charging station installed. To make this preparation easier, it's recommended you hire a licensed electrician. A licensed electrician will come to your house to assess if your current electric system will support the charger. After doing this, the electrician can create a plan outlining the work that needs to be done so as to complete the installation. Next, you must determine a charging site where an outdoor standard outlet can be installed. Of course, this should be near your parking area. When all of this has been done, you are finally ready to begin the installation process.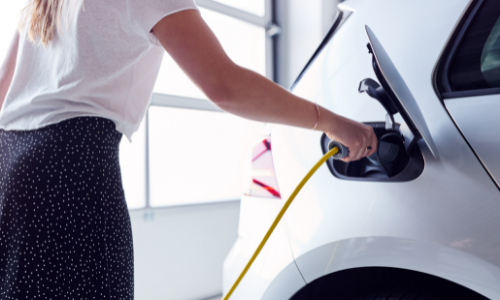 Hiring a Licensed Electrician
Although DIY installation is an option, it's advisable to hire an electrician for the job. Electrical work is dangerous and complicated. If you try installing your EV charging station on your own, you may cause damage to the station or your home, which will be even more costly. A licensed EV electrician will have the knowledge and expertise to properly install your charging station. In some cases, some homes may require adjustments to their electrical systems, such as installing dedicated circuits and outlets. Such complicated tasks should be left to professionals. Lastly, an electrician can walk you through the process, from choosing a charger to permitting the final touches.
DIY Installation Tips
While it is best practice to hire an electrician, you can still go the DIY route. When it comes to EV charging station installation, Level 1 EV chargers are the easiest to install on your own. These chargers don't require any special installation. You simply plug your Level 1 charger into a standard 120V wall outlet. You don't have to deal with the extra costs associated with an installation, and you can set up the entire charging system without professional assistance.
Maintaining Your Home EV Charging Station
Keeping Your Charging Station Clean
EV charging stations are rather simple to clean. It's recommended you use a dry towel on the connector and a damp cloth on the unit's body. While the device is waterproof, you do need to keep the connector dry. Therefore, you should shut the unit off before cleaning it as an added safety precaution. The port itself does require additional work to clean. You may need to clean the connector that connects the device to your EV. To clean the port, carefully sweep a cotton swab over the charging contacts to eliminate any extra dirt.
Preventing Wear and Tear
General maintenance for charging stations includes storing charging cables securely, checking parts periodically, and keeping the equipment clean. Chargers may need repairs every now and then as well. Industry experts advise budgeting around $400 for upkeep and maintenance each year. Many EV charger networks provide a package covering general maintenance for an extra yearly charge.
Specific maintenance for your EV charger depends on the type of charger, the charger's location, and frequency of use. For example, Level 2 EV chargers are prone to component failure because of their size and complexity. They need additional care and should be regularly cleaned. External factors such as weather and climate can affect this charger's condition. DC fast chargers require more maintenance and repair over time. The intricacy and complexity of these devices cause them to have much more upkeep compared to Level 1 and Level 2 chargers. DC fast chargers require filters, cooling systems, and other complex hardware that need routine care. 
Troubleshooting Common Problems
Just like other electrical devices, you may run into IT issues with your EV charging station. There are some common troubleshooting problems that you may encounter, which can be frustrating. Thankfully, there are solutions to most of the errors you may come across with your EV charger. In fact, you can check out our other article "Common Error Codes for EV Stations" where you can find a list of several troubleshooting issues along with solutions on how to resolve them. 
A Quick Recap to Summarize
Electric cars and their charging supply equipment counterparts are still somewhat new to the auto industry. However, since electric vehicles are currently one of the fastest growing markets, electric vehicles are becoming more affordable as their popularity rises. Electric cars will soon be very comparable to the price of gas-powered cars and accessible to the majority of Americans in the market to purchase a car. It is predicted that in the near future, 32% of all cars sold in the United States will be fully electric. Many auto manufacturers have plans to produce electric vehicles with increased mileage per charge and reduced charging time in the near future. The future is inevitably electric, so it is great you are thinking about it now.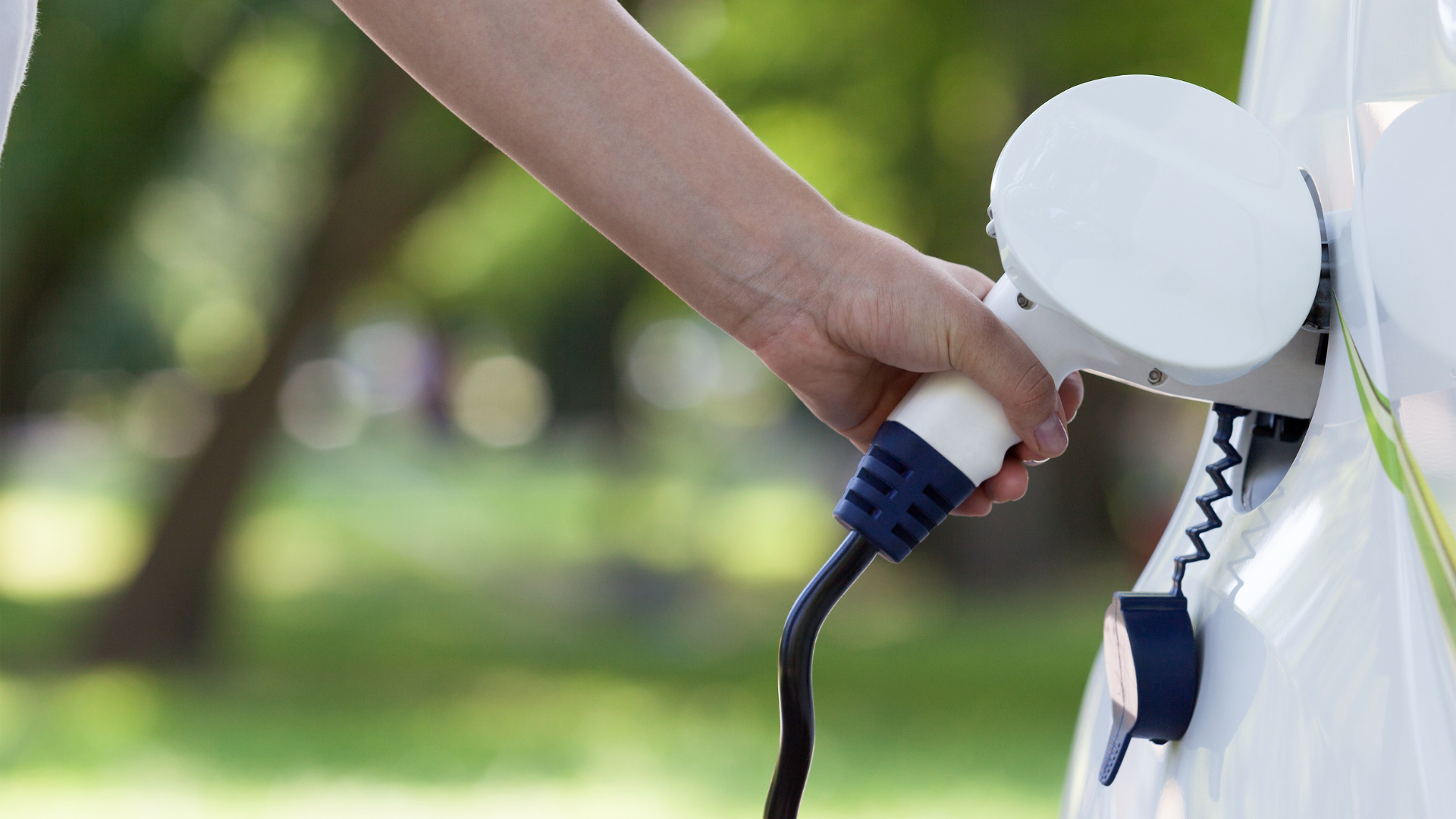 The ability to charge your electric car right from your own home is something that will make life much easier. Electric car owners who have installed a home EV charging station rave about this decision and say they now cannot even imagine life without one. It is important to do your research and choose the best option for you. With 55 years of electrical experience, Santella Electric has a team of knowledgeable professionals that will help you make these decisions with confidence and will install your new home EV charging station quickly and seamlessly.