Selecting & Installing Pool Lights: Examples
Having a swimming pool is a popular feature for Fairfield County homeowners. Pools are great for all ages and are a fantastic amenity to have in the warm summer months. Most people with swimming pools only use their pools during the day, as that has the best lighting to see all around your pool and patio. Even though the sun is only out during the day, that doesn't mean you cannot use your pool at night. There are plenty of lighting options available to provide homeowners with the visibility to use their pool at any time of the day. Whether you are looking for lighting around a pool for aesthetic purposes or for visibility, there are many options available to choose from. This blog will discuss why you should consider pool lighting installation.
Why You Should Install Pool Lighting at Your Home
There are a wide variety of reasons as to why a homeowner might consider installing led pool lights and we always recommend calling a professional pool electrician.
1. Lights can Make your Pool Safer
The biggest reason homeowners add pool lighting around their pool and their patios are to make that area safer. At night, a pool can be a hazard to anyone walking around, especially if you have a family with children or pets. Children might not know exactly where the pool is in your yard if there are no lights, or they might be too young to even understand what it is. Having lights around your pool can help prevent anyone from accidentally falling in. They can also help make the area more visible to others so if someone has fallen in, another person can find them quickly and help them. Swimming pool deck lights add a layer of safety to your home.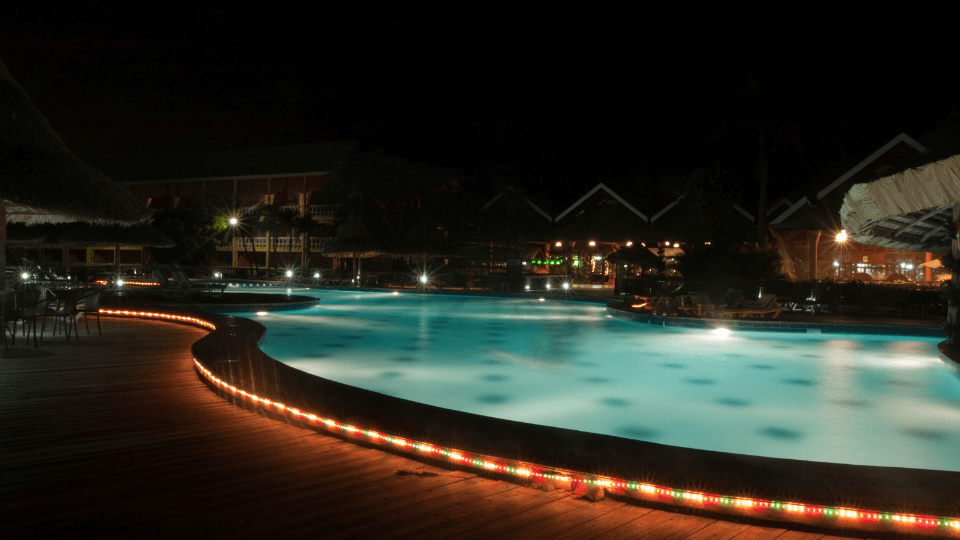 2. Lights will Improve the Aesthetics to your Pool Area
While pool lighting adds a sense of safety to your yard, it can also make it more attractive. There are many different options of lights to choose from that can cater to your ideas of how pool lighting should look. This includes different colors of lights, different styles of lighting, and even different patterns. You can get very creative as to how you want to put your lights around your pool. The options are endless to elevate your pool and patio area.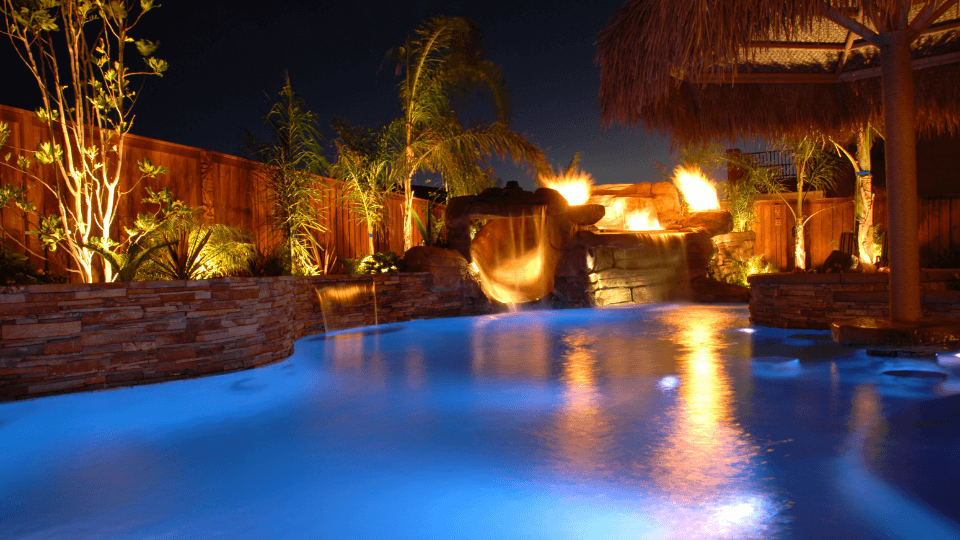 3. Lighting Helps to Maximize the Use of the Pool Area
Many homeowners only utilize their pool area during the day as this is when the sun is out and the area is most visible. This doesn't have to be the case. Adding color-changing pool lights helps make that space available during any time of the day. Lights will make both your pool and patio accessible at night without the concern of someone getting injured.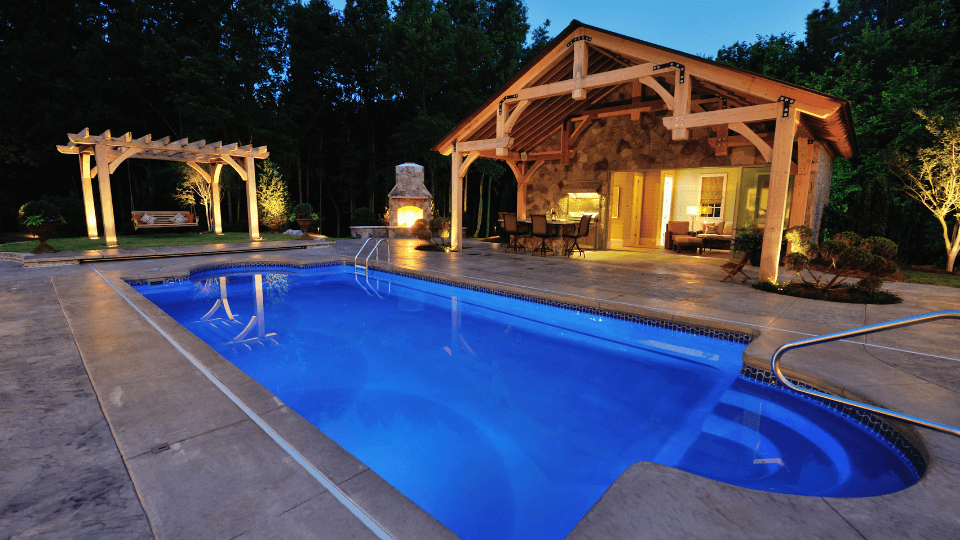 Selecting the Best Lights for your Pool
Now that you are aware of some of the most important reasons to add lighting around your pool area you might be wondering what are the best pool lights? There are two different types of lights to consider: solar lights and wired lights. Either of these options can be a great residential electrical addition to your home.
1. Solar Light Options:
Below are some of the best solar light options for your home:
WINNER: L949 Solar 10 LED Shed Light
Why We Picked It:
These solar lights are a great permanent option for outdoor lighting by your pool. They come with rechargeable batteries to ensure you will always have your lights shining at night.

Pros:
Comes with rechargeable batteries

2 power settings

On and off switch
Cons:
These lights are larger in appearance so not a good option if you want them more hidden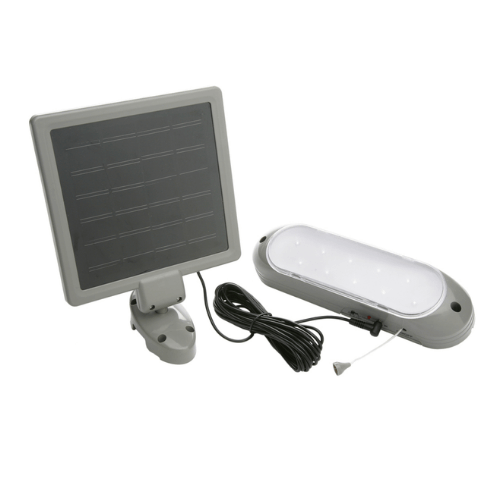 RUNNER UP: Solar 9 LED Flood Light with 180 Degree Motion Sensor
Why We Picked It:
These solar lights have a 60-foot range meaning they will provide a lot of coverage to your pool and patio.
Pros:
60-foot range

Motion detector

Rechargeable solar panel
Cons:
These lights are only motion detected, meaning that might not stay on 100% of the time if you are outside for a long period of time.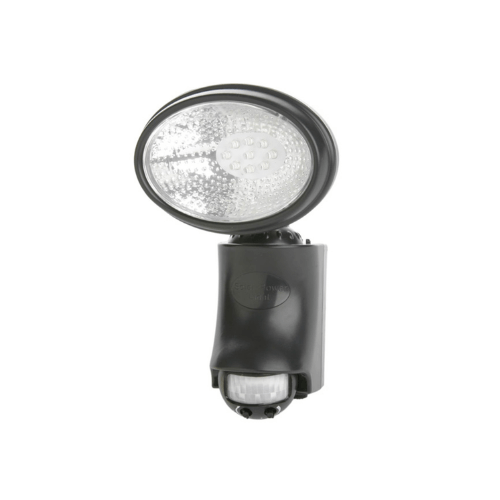 2. Wired Light Options:
A little different from solar lights, wired lights can be used at any time of the day and do not charge from the sun. Wired lights are powered by electricity. Below are some of the best options for wired lighting around your pool.
Why We Picked It:
These permanent outdoor lights can be added anywhere outside your home on a structure. They appear as though they are your typical LED string lights but they are permanent and stay up year-round.
Pros:
Color changing, you can also change the individual colors to create patterns

Customizable

Long-lasting
Cons:
These lights must be attached to a structure such as a house or a shed. These would work great for a pool near your home, a shed, or with an enclosed patio structure next to it.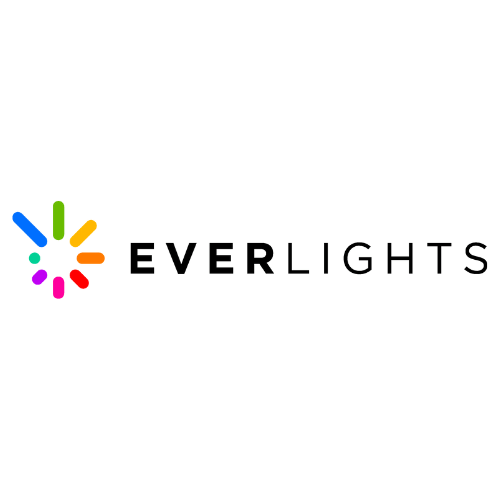 Why We Picked It:
Though these lights are similar to the first option, they are also a great option for outdoor pool lighting. These lights are a permanent, year-round way to add lights to your pool and patio.
Pros:
Completely customizable

Can be turned on and off by an app on your phone

Color changing LED
Cons:
Must be installed somewhere on a structure and near a power source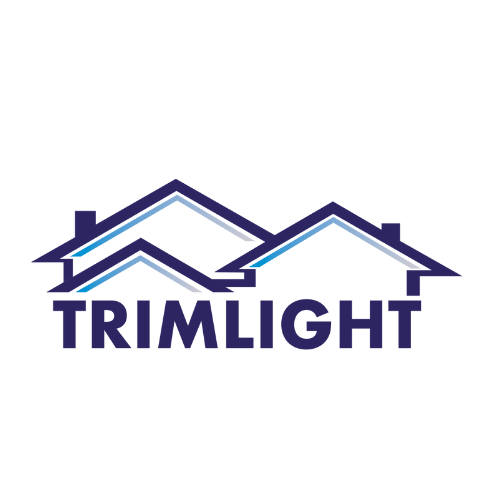 How to Install Solar Pool Lights
Before you choose any option of lights, you should understand how solar pool lights work. Solar lights work by collecting energy from the sun during the day and generating a change in its battery. Then at night, the lights are powered by the change they collected from the sun during the day. If solar lights sound like a good option for you, here are a few ways on how to install solar lights in your pool.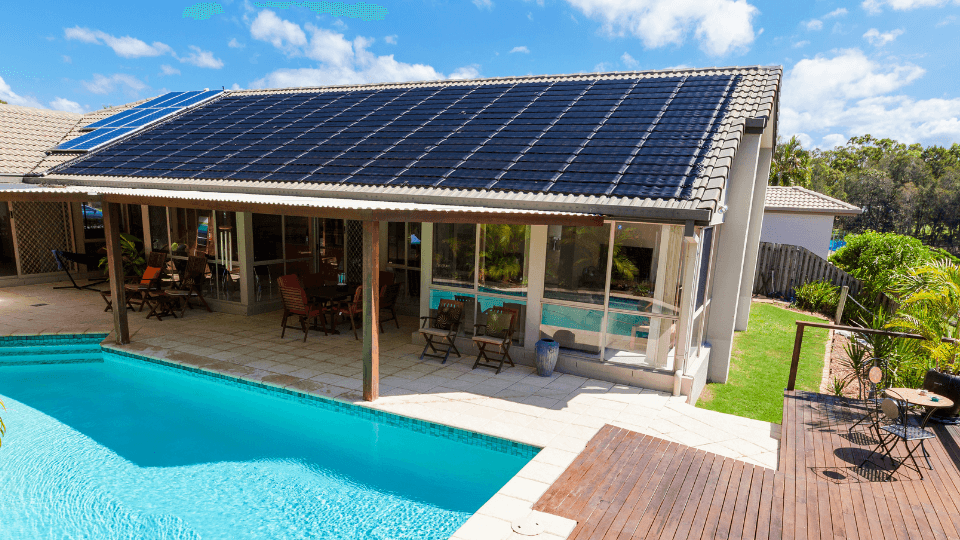 Step 1
Before you install any kind of light outdoors, it is essential to know exactly as to where you want the lights to be. This is important as it will be difficult to move solar lights once they are installed in that location. Always pick a location where the lights will be effective. For example, if you want solar lights so your pool will be accessible at night, you must install your lights in your patio area rather than near the back of your house.
Step 2:
Depending on what kinds of solar lights you choose, some might be as easy to install as just sticking them into the ground while others will need a more intricate installation. Pool light placement has to be perfect for the solar lights to do their job. They need to have access to the sun during the day so they can collect a battery charge for light. You must install them somewhere that has access to a light source during the day. Permanent solar lights will require tools to be installed correctly as you will need to secure them to a structure.
Installing permanent solar lights can be complicated. It is best to seek help from a professional to ensure your solar lights are installed correctly. Professionals at Santella Electric can help homeowners install solar lights for their pools as well as recommend what solar lights will be best for their wants and needs.
How to Install Wired Pool Lights
Wired pool lighting can be a little different than solar lights. Wired lights must be installed in an area with a direct power source as they are powered off electricity rather than from the sun. Typically, wired pool lights must be installed on some structure, they cannot be placed on the ground as they are in the form of string lights or smaller light bulbs. Wired lights are great options for pool lights above the ground. Below are steps as to how to install your wired pool lighting. We always recommend you call a pool lighting electrician like Santella and never conduct any electrical work alone: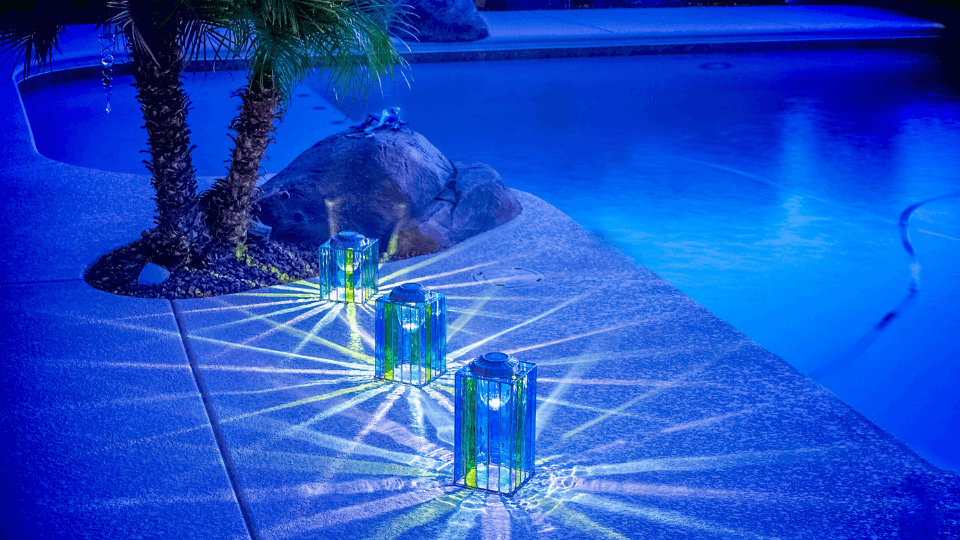 Step 1
Similar to solar lights, you must decide on a location to install the lights before you do anything else. You need to find a location that has a direct source to power and wired lights run off of electricity. Wired lights can work any time of the day as they do not need to be charged by the sun.
Step 2:
Once you have decided on a location for your wired pool lights, you can begin installing the lights. Permanently wired lights will likely need an electrician to install as they need to be connected directly to a power source. It is not recommended to try to install wired lights on your own. Santella Electric professionals will be able to perfectly install your wired pool lights.
Call the Experts to Install Your Pool & Hot Tub Lights Today!
There are many different residential pool lighting ideas you can utilize for your home. Adding lights by your patio and pool has plenty of benefits such as adding a layer of safety and security to your home, making your pool more aesthetic, and adding value to your house. Pool lighting also comes in many options such as color-changing pool lights, LED lights, and solar lighting. No matter what kind of lights you choose for your pool, you should always seek the help of a professional to install your lights. Contact Santella Electric today for lighting installation in and around your pool!