Electrical fires can happen anywhere, from residential homes to commercial buildings. They ignite fairly easily and many different culprits around your home or business could easily start one. These factors are very dangerous and people need to be more aware of the possible hazards electrical fires can be. As electrical fires are becoming more and more common, homeowners and businesses should know the necessary steps in how to prevent one.
What is an Electrical Fire?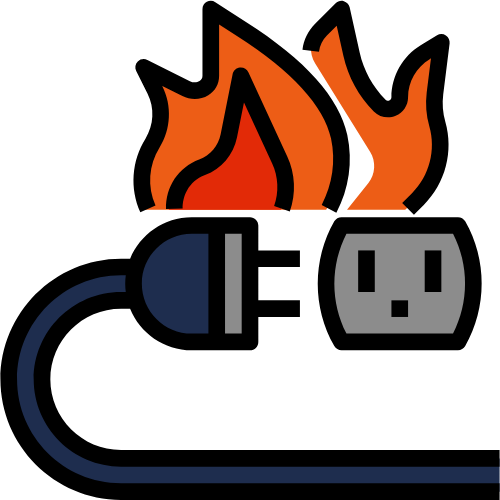 An electrical fire is an overall term that describes a fire that is caused by an electrical malfunction or problem. These electrical fires can be caused when there is a failure within certain electrical components of an electrical system, or when certain machinery malfunctions and ignites an electrical fire. All electrical fires start from wires, circuit breakers, cables, or anything in an electrical system. They can also start from sparks or an electrical component overheating, and therefore igniting a fire.
Electrical fires may be more common than you think. Nationally, there are
over 51,000 electrical fires
every year in residential homes. From these residential electrical fires, there are over 500 deaths and 1.3 billion in property damages. Additionally, 38% of all fires in commercial buildings are caused by a malfunction in electrical equipment. Of all the fires in Connecticut in 2020,
over 6.3% of them
were caused by some sort of electrical malfunction. Homeowners and business owners should be increasingly aware of the likelihood an electrical fire may start.
What are Common Ways Electrical Fires Can Start in Homes?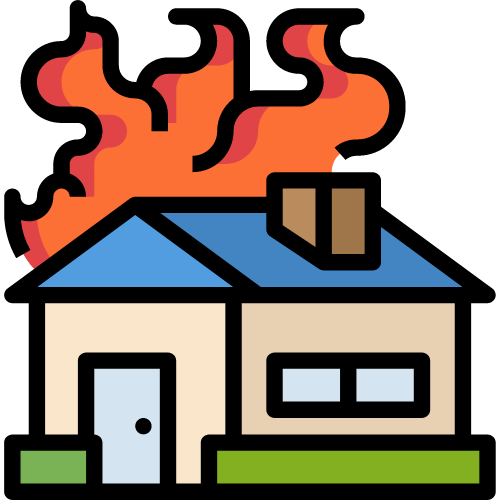 Like any electrical fire, they can start from a spark or overheating. A spark can happen when your electrical system does not create a clear path for electricity to travel through. This means, sometime between the start of the electricity and before it reaches its destination, it is obstructed, and therefore causes a spark as it cannot continue any further. Additionally, an electrical fire can start from overheating. This occurs when your electrical system gets much too hot. This causes wires to melt and pour electrical systems to become exposed to their surrounding areas.
Below are some additional factors that can contribute to an electrical fire:
Frayed cords
Faulty wires
Wires that are the incorrect size for your electrical system
Specifically, in residential settings, electrical fires can occur in almost every space in your home. Refer below to see what to look out for around your home specific to what room that appliance or electrical system is found in.
Living Room
Outlets:
Make sure there are not too many cords plugged into a single outlet or extension cord. Also checking if your outlet is faulty or working properly.
Light Fixtures:
Check your lamps, light bulbs and other light fixtures to ensure everything is working smoothly.
HVAC Units:
Ensure your space heaters, heating units, and air conditioners are functioning properly.
Kitchen
Appliances:
As your kitchen most likely has the most appliances in your home, it is important to make sure each appliance is running smoothly, and your circuit board is able to work properly with all of those appliances running at the same time.
Lighting Fixtures:
Similarly, your living room, light bulbs, and lamps throughout your home should be checked for hazards.
Basement
Washing Machines:
Similar to your kitchen, your basement typically has appliances such as a washing machine, a dryer, humidifiers, and maybe even a fridge. With all of these appliances running, it is important to make sure your electrical circuit can function effectively with multiple appliances running continuously.
Circuit Breakers and Electrical Panels:
Your basement is typically home to your circuit breaker and electrical panels. These control all of the electricity throughout your home. Constantly checking these are essential to ensure electricity will function properly throughout your home.
What are Common Ways Electrical Fires Can Start in Commercial Buildings?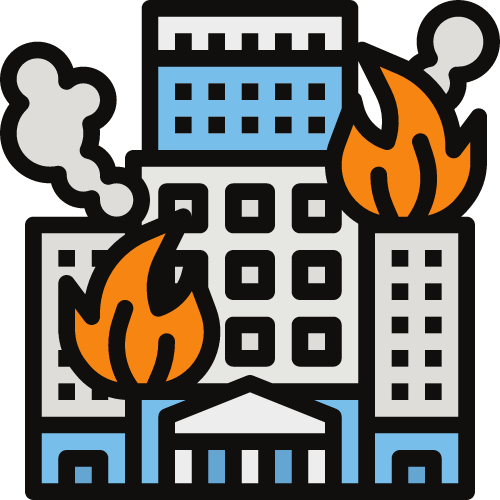 Similar to residential homes, electrical fires start due to sparks and overheating. These are the two most common reasons an electrical fire would be ignored anywhere. Additionally, electrical fires can start from something called overlamping. Overlamping refers to when a lightbulb overheats. Lightbulbs have a limited amount of electricity they can create, and electricity they can take in. When a lightbulb tries to take more than a socket can give, it can overheat. This overheating can cause the lightbulb and socket to ignite and start a fire.
Specifically, in commercial buildings, electrical fires are more likely to start due to older equipment and maintenance issues. As business owners are focused on other things, tasks such as keeping up with your building's electrical system may not come to mind. Electrical fires are an ongoing risk in commercial buildings and should be routinely checked in order to prevent electrical fires. Below will discuss common causes of electrical fires in commercial settings.
Old Equipment and Appliances:
Even though you might think your older appliances are running smoothly, they could have malfunctions happening on the inside. 19% of fires started in commercial buildings are due to aging appliances and equipment that are not properly kept up with. These older appliances can cause electrical malfunctions that could be hazardous to the entire workspace. Keeping up to date with your equipment and appliances helps to reduce the risk of an electrical fire in the workspace.
Not Complying with Safety Codes:
As technology is updated so frequently, it is essential to ensure you are keeping your electrical work updated as well. Some newer appliances and equipment don't work as well with older electrical systems. The wiring and cables in older electrical systems often don't align with the circuit amperage in newer equipment. This difference in circuit amperage causes the electrical system to overheat or malfunction which then leads to an electrical fire. It is essential to keep up to date with your building's safety codes to prevent these electrical fires from starting.
Poor Maintenance:
This is the most common cause of electrical fires, both in commercial buildings and residential homes. Common maintenance for electrical panels includes removing dirt and inspecting for faulty wires and cables. This is essential for reducing the likelihood of electrical fires anywhere. Inspecting the wiring of the electrical system for breaks, kinks, and frayed cords helps prevent that electrical system from sparking and overheating, and possibly causing an electrical fire.
How Can I Prevent an Electrical Fire?
Below discusses ways you can prevent an electrical fire in both residential homes and commercial spaces: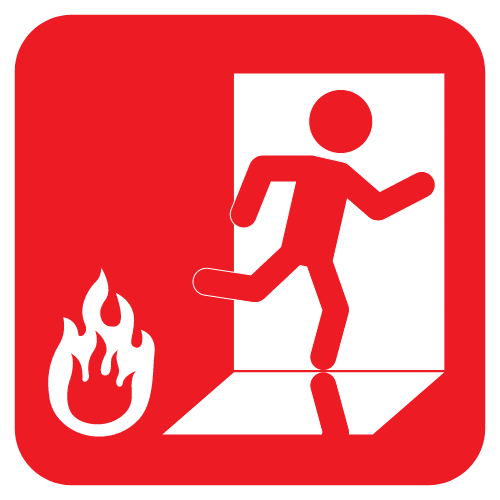 Inspect Electrical Outlets:
This involves checking for faulty wall plates and wiring that could be hazardous. Also, make sure there are no loose, fitting plugs that can cause a shock when adjusting them. Lastly, make sure there are no exposed electrical outlets when they are being unused.
Cords:
Examining your cords for bends, breaks, and cracks. Damaged cords could cause sparks that could ignite things in the surrounding areas. Additionally, make sure there are no cords covered by carpet or rugs, or in any area where many people could be walking by.
Plugs:
never force your plugs into an outlet. If it doesn't fit, then it would be smart to have a professional come take a look at the outlet itself. Also, never try to make a three-pronged outlet fit into a 2-conductor outlet, as they are not compatible with each other.
Circuit Breaker/ Fuses:
Make sure your fuses are in the correct rating for the circuit they are protecting. An electrician will be able to tell you what size you need for your circuit.
Electrical Wiring:
Checking for loose wiring, or damaged wiring is essential when trying to prevent an electrical fire. Broken and loose wiring can cause sparks that ignite and catch to surrounding items in your home. Immediately shut off your electrical system and contact a professional if you suspect a wire to be broken, or you hear noises coming from your electrical system.
Appliances/Electronics:
Sometimes, especially in residential homes, newer appliances and electronics are not up to date with your home's current electrical system. This could cause appliances to repeatedly blow fuses or overheat your electric wiring. If this is the case, make sure a professional examines the problems and updates your home's electrical system to prevent possible fires.
Prevent Electrical Fires by Contacting Santella Electric
Electrical fires are extremely dangerous and can happen anywhere within your home or commercial building. Keeping up to date with safety codes and regularly inspecting your electrical wiring and system can help prevent electrical fires from starting. If you suspect an electrical fire may occur Don't Wait Until it is Too Late – Hire Santella Electric Today!